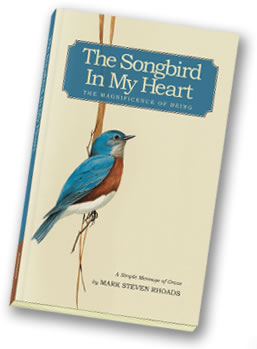 ABOUT THE BOOK
This book is a song of grace, whispering softly to anyone who is listening for the call of inner peace. For many, the call is so quiet it is perceived as a vague yearning for something more in life. This is the call of the songbird in your heart.
It may include the unanswered questions of "Who am I?" and "Why am I here?" For others it may be a simpler question as in "Is that all there is?" We hope and pray the answers are out there, if we only knew where to look.
"This book has simple intentions; to point you toward the purpose of your life, to recognize the simple magnificence that is you and to perceive life's remarkable beauty around you. The story is told with prose and poetry that comes from my heart to yours. It is intended to be read on a lazy, contemplative afternoon."
The story is told within the simple, beautiful context of everyday grace. While no religious and spiritual traditions are promoted, they are all encouraged and respected. It is the author's sincere hope that you accept his challenge to take charge of your spirituality and find your true nature.
WSBR Radio Interview of the Author by Anita Finley of the Boomer Times on 10-10-2009
"Each and Every Moment
As the pivot of change
Turns the wheel of truth
As the universe sings its magnificent song
Of love, of a life in peace and grace
The whole world resides
Within your precious heart
May your mind's eye
See, once again
For this is the purpose
The purpose of you.
In the Name of All that is True."
The book is in two parts: the first named "The Magnificence of Being, A Simple Message of Grace" written in the prose and poetry of a journey of self-discovery. The second is titled "Acts of Contemplation, Freedom for a Glad Heart" a series of exercises designed to demonstrate the principles of Part I through your own effort. There are also full color photographs designed to enhance the reading experience.
Two chapters are available for free downloading. The first is Chapter Six - "A Moment in Time". This is an exploration of time's magical mystery. The other is Chapter Fifteen — "Nature's Beautiful Face", which witnesses the beauty of outdoor life, its many connections and lessons for us.
The finished book is now available from this website and Amazon.com.
See How to Order.
Table of Contents Part I - Part II
Contents: Part I
The Magnificence of Being — A Simple Message of Grace
The Miracle of You - A Return to Spirit
Walking in Quiet Stillness
The Blue Skies Shine
Original Mind
Mindfulness & Emptiness
Moment in Time
We Are One Together, Interconnected & Interdependent
The Sun, the Moon & the Stars
Truth versus Perspective
The Relevance of the Great Religions
Sin, Evil, the Devil, the End of Paradox and Desire
Pain, Suffering and the Daily Struggle of Life
The Air that We Breathe
Symbols & Metaphors
Nature's Beautiful Face
How Does your Garden Grow?
Seasons of Change
The Circle of Life
Epilogue, a Hope and a Prayer
A Brief Glossary

Contents: Part II
Acts of Contemplation — Freedom for a Glad Heart
Opening Thoughts
Walking in Quiet Stillness
The Blue Skies Shine
Wake-up time
Airtime
Mealtime
Naturetime
Mindtime
Moontime
Sleeptime
The Universe in Time
A Moment in Time
Pain, Suffering and the Daily Struggle of Life
Seasons of Change
Circle of Life
Table of Poems
Bibliography
Index